The Silver Star Farm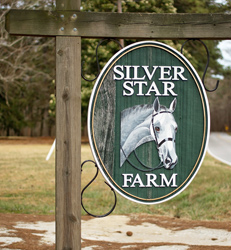 Silver Star Farm provides a clean, safe and professional environment for you and your horse. We are located in Camden County, just minutes outside of Elizabeth City. We are both a short drive to both Virginia and the Outer Banks.
All of our fencing is made of three and four rail wood. We have electric braid that runs along the top rail. Our stalls are 12x12, and in each are comfort stall mats and fans. There is a hot and cold wash stall. The feed and tack room are climate controlled. Inside the tack room are individual lockers for storage. Outside is a covered lounge area with a bathroom fully equipped with washer and dryer for all your horses laundry. In the summer months an outdoor shower is available too.
We have a 100x200 lighted sand riding arena. There are dressage letters and several cavalettis and standards for you to use.