About Anna Harriss Smith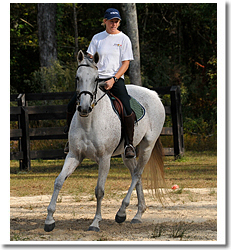 I have always loved horses. I began taking riding lessons when I was 5 years old, was involved in 4-H for years, and I earned a Bachelor of Science degree in Equestrian Studies. Having a facility like Silver Star Farm has been a dream of mine ever since I can remember.
When it was time to go to college, I chose Averett University and took my thoroughbred mare Silver Star Lady (Lexie) with me. I was on the Intercollegiate Dressage Association (IDA) Team. This team requires you to challenge yourself by riding a dressage test on an unfamiliar horse in a limited time span. Learning to deal with individual personalities quickly is a skill I use every time a new horse comes to stay here at Silver Star.
I was also on the Combined Training Team at Averett. Combined Training requires horse and rider to compete in three different competitive areas - stadium jumping, dressage, and cross-country. Each of these disciplines puts emphasis on different aspects of riding but, taken together, they ultimately produce a versatile and well-rounded team of horse and rider. Combined training helped me to learn about each discipline and made me become a more resourceful rider. It helped me to build confidence and trust in my horse.
After college, I worked at different boarding facilities in the area including, Hidden Spring Farm and Wrangler Farm in Currituck. I treasure the experience because it reminded me of what I loved about working with horses. Being able to go to work everyday and love every minute of it. The peacefulness of working outside, the smells of a barn, and the welcoming nickers of all the horses patiently waiting their breakfast. It also helped me decide what I would do differently, while I researched and planned my own boarding operation.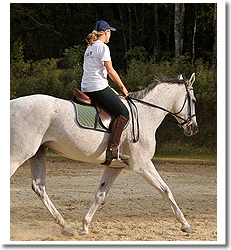 With help from my family and husband Brian, I was able to create Silver Star Farm, named after my own Silver Star Lady. Silver Star Farm is also our home. The horses live below and we live above with our daughter, Addie, and our two dogs Lucy and Stella.
My experience running my own operation has made me love horses even more. Every horse under my care becomes an extension of my family. Whenever one of our boarders moves away, I am always saddened because they have become like family to me.
I learn from every horse and owner that I work with. Working with other horse owners helps me grow everyday to become the barn manager and horse care provider that I strive to be.